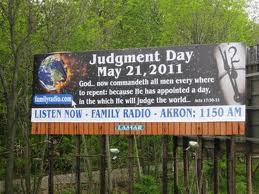 Its official, the clock here in the UK just passed 6pm, and …No rapture!! … except of course on twitter where we have an armageddon of users expressing their mock disappointment at the lack of dead people rising from their graves, but then again perhaps it has been a rather quiet rapture – the type that passes unnoticed. God popped down,  took a quick look around, decided none of us were worth bothering with, was also rather keen to watch Dr Who today (on in 10 minutes if you happen to be in the UK), and so  decided to give it all a miss.
Of all the tweets I've seen so far, my favorite just has to be Professor Brian Cox who tweeted … "I think we should all pretend the #rapture is happening so that when Harold Camping gets left behind later today he'll be livid.".
Read moreNo rapture – So what happens now in the minds of the believers?