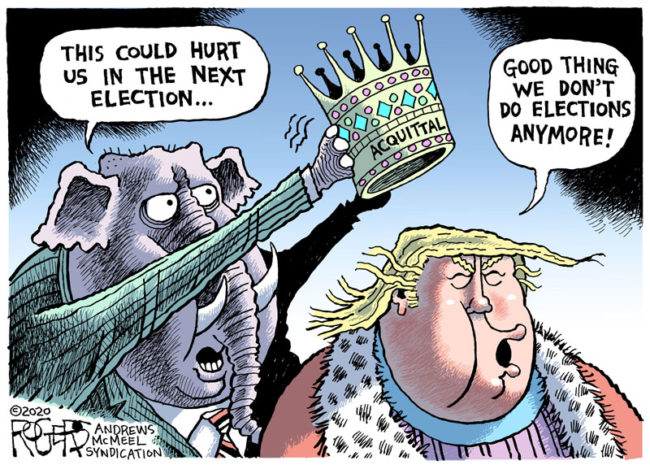 What does the acquittal by the wingnut senate majority tell us about Trump?
Nothing at all. No amount of evidence mattered, nor did actually listening to credible witnesses, so they blocked all that.
What we do perhaps learn is that Trump is a test of who would have done what in Nazi Germany. Who would have attended the various rallies and would have been vigorously shouting "sieg heil" with enthusiasm, and who would have the humanitarians that would have been secretly been hiding members of the Jewish community in their basement. I think we have a very clear answer.
And so each and every week the wingnuttery continues. Below is the latest selection.
You can of course make a difference and change things. You chance to do that is coming in November.
Wingnut proclamations from the last 7 days
Here for your enjoyment is this week's selection of wingnut gems. It has all been mined from the stream of befuddled right-wing / religious proclamations …
The Cult of Trump ..
State of the DisUnion ..
When Barack Obama was president, Glenn Beck spent years mocking the State of the Union Address as a "a sick, despicable circus spectacle" and blasting the "attention whores" and "human props" who attended. This time it was a tad different, Beck attended President Donald Trump's State of the Union address for the second year in a row.
Meanwhile an elderly elected official tearing up a speech triggered a lot of wingnut reactions …
Josh Bernstein is outraged that House Speaker Nancy Pelosi tore up a copy of President Donald Trump's State of the Union address: "Nancy Pelosi is an evil, sadistic, cold-hearted, jealous, vindictive bitch."
Jim Garlow says that Pelosi is "DEMONIC."
Chris McDonald proclaims that he "could have just slapped [Pelosi's] face."
Alveda King defends Trump for refusing to shake Pelosi's hand during the State of the Union address: "While President Trump chose to avoid shaking hands with his adversaries during the week of the impeachment saga, I must admit that I agree with his wisdom. There is a scripture for that: 'Lay hands suddenly on no man, neither be partaker of other men's sins: keep thyself pure.' 1 Timothy 5:22."
Acquitted (but still actually guilty) …
The same political outfit that promised to mail toy "bricks" to House Speaker Nancy Pelosi's office last year is back with a new gimmick: collector coins celebrating President Donald Trump's acquittal in the U.S. Senate.
Super Bowl …
Chris McDonald sees prophetic significance in the fact that the Kansas City Chiefs beat the San Francisco 49ers in the Super Bowl: "These chiefs are about to destroy the cabal which Nancy Pelosi represents."

He might as well be using chicken bones to divine supernatural messages. It would be just as meaningful.

Dave Daubenmire Hopes to Sue the NFL for Putting His Eternal Salvation at Risk With the Super Bowl Halftime Show … "I wanna sue them for about $867 trillion."

He is under no obligation to watch, there is an off button.

A participant on Mike Heath's "Shield of Faith" livestream program this morning said that if America was really a Christian nation, "true Christians would rise up" and "decapitate those scumbags" who performed at the Super Bowl halftime show.

He is clearly channeling his inner ISIS
Homophobia ..
The Truly Christian Way…
Someone once accused Rodney Howard-Browne of not being a Christian, and Howard-Browne responded by telling the critic that if he wasn't a Christian, he would drown said critic in a bowl of cereal.
Chris McDonald says that viewers who get upset when he or one of his guests use swear words are engaging in "religious bigotry."

Personally I think that Chris can F**k Off.
Conspiracy claims …
Stephen Strang claims that the Democrats intentionally crashed the economy in 2008 in order to help Barack Obama win the election.
The pro-Trump cable network One America News continues to peddle conspiracy theories about the death of DNC staffer Seth Rich, despite the fact Rich's parents have repeatedly pleaded for people to stop politicizing their son's murder.
Were you aware that Lizzo performed a "satanic ritual" on Kobe Bryant shortly before his death?
What else came out of the Wingnut fantasy land?
Lots of other stuff.
As always, it is an endless stream. Some of it is sad, some is rather grim, and some is quite frankly hilarious. Here are a few more samples …
And that's a wrap for this week.
Will they continue like this next week?
Yes they will.