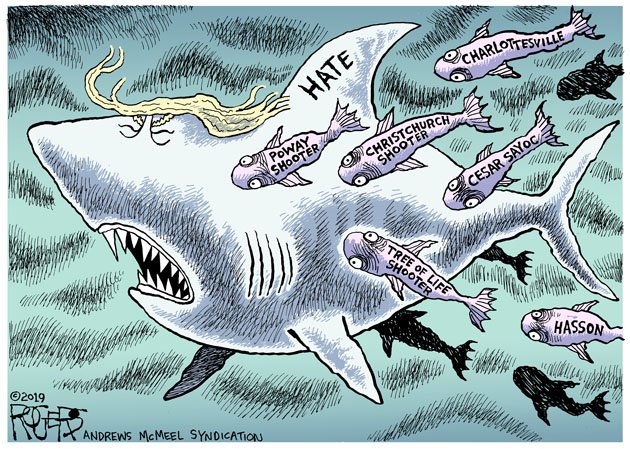 A common tactic often deployed to manipulate people is to deploy fear. The idea is to invoke an emotional passionate response and focus it in a specific direction. If the foundational basis for that is fiction, then what happens will be tragic. The truly weird blending of religion with right-wing politics has become the primary example, and so what gets proclaimed by many is perhaps best tagged as absurdity on steroids. You might wonder if anybody would actually be daft enough to embrace it all as "truth", and yet in the age of Trump, clearly many do.
What happened during the last 7 days?
US Extremism …
The Right Blames Everything But Right-Wing Extremism for Poway Synagogue Attack
"every extremist murder in the United States in 2018 was committed by right-wing extremists and that the frequency of extremist murders has been increasing in recent years."
(… and yet we face absurd claims such as this next item last week …)
Obama Fiction is still popular …
(For this guy the word "soon" is more or less a rock solid guarantee of "never").
Pete Buttigieg is a new popular hate figure …
(The bible also condemns eating shellfish as an abomination, yet nobody appears to be upset about shellfish consumption)
The Illuminati have apparently been spotted …
(If Ellen is Illuminati, then sign me up, I also want to join)
The Tower of Babel …
(His claim is that God has personally confounded the language of Democrats, and yet he is the one who is babbling incoherent nonsense)
Exorcism over the Radio …
E.W. Jackson Performed an Exorcism on His Critics Over the Radio
"So if any of you are monitoring the program right now and you are out there on the left hating me and encouraging people to hate me and all of that because I am telling the truth according to the word of God, I say, 'In the name of Jesus, Satan, come out of them now!'" Jackson proclaimed. "In Jesus' name, hallelujah. Folks, I can see demons trembling right now."
(I guess it makes sense for him to ask his imaginary friend to beat up his imaginary enemy)
Notre Dame
Mark Taylor: Notre Dame Fire Was God's Judgment to Expose Its Involvement in Child Sex Trafficking
"It's a known fact that there are catacombs under that church," he added. "There are tunnels under that church. We have talked about that many times on your program here where you're going to see churches exposed—ministries, seminaries—that have tunnels under them that have been involved in sex trafficking, human trafficking, human sacrifice. There are satanic rituals going on in these churches and ministries; they're trafficking these kids and these people underneath in these tunnels."
(It is also a known fact that Mark Taylor is 100% wrong almost 100% of the time)
Jesus supports Trump
Kat Kerr Knows Jesus Personally and 'He Likes Trump'
(I just happened to bump into Jesus the other day. He says that Trump can Fuck off)
The Party Of Satan
Bill Mitchell: Democrats 'Really Have Become the Party of Satan'…"That sounds like hyperbole to say that they're the party of Satan,"
(That's because it is Hyperbole)
Can it all get any more weird?
Yes, yes it can, the following is also all from the last 7 days …