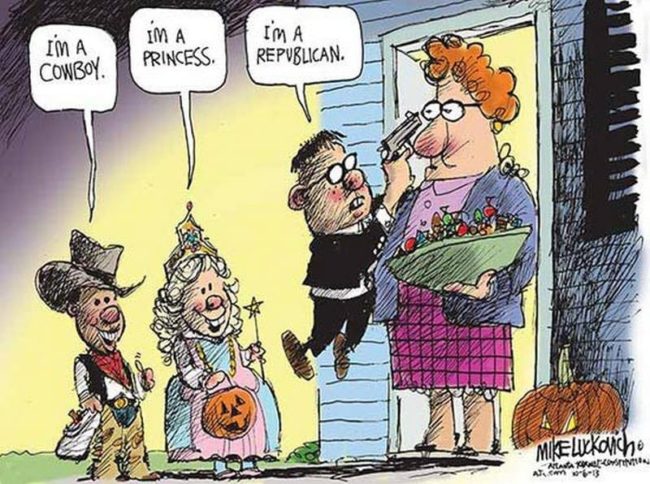 As you scan this week's weird religious news items it becomes rather clear that the looming midterms has the right-wing religious kicking their rhetoric into overdrive. The essence of it all is that all democrats are supposedly evil incarnate and only voting GOP will bring order back to the universe.
You can paint me completely unsurprised.
What is also rather interesting to observe is that you don't see either left-wing or moderate Christians promoting such blatant BS or conspiracy mongering. This is not "All Believers", nor is it even both sides, but rather it is an on going saga of the right-wing fundamentalists becoming more and more extreme and detached from reality.
What Happened during the Past Week?
Despite some rather robust evidence that the pipe bomber was a radicalised Trump supporter, the false flag claims continued to be rather dishonestly promoted and generally never corrected …
Not all took that stance, some went with alternative claims …
As for the attack on a synagogue in Pittsburgh, apparently that was caused by all the left-wing rhetoric …
… and the solution is? Yep, more guns …
Charisma's Steve Strang continued to declare his rather blatant moral bankruptcy by defending outright tax fraud …
"Soros" is the socially acceptable term for anti-Semitic tropes these days …
Democrat apparently equates to "evil" …
"The battle for this nation isn't Republican versus Democrat or black versus white; it's a spiritual battle. Now is the time for Spirit-filled believers to rise up, intercede and vote."
(Somebody should perhaps remind these folks who the literal Nazi's and racists align with … Hint: It's not the democrats)
Apparently cell-phone radiation causes Democrats (I can only wonder how he explains the existence of Democrats prior to the existence of cell phones) …
This guy believes God is going to slaughter more SCOTUS members so Trump can slot in right-wing alternatives …
Some evangelicals were quite determined to cosy up to the Saudi prince …
… and others were quite determined to have a go at dreaming up the weirdest possible conspiracy theory ever …
What happens when the Christian Left confronts the Christian right about it's rather blatant hypocrisy? This does…
(It is interesting to note that there is a growing Christian Left that is starting to find its voice)
Meanwhile elsewhere …
Voters in Ireland did a good job …
… and the Pakistan judiciary has quashed a Blasphemy case …
Finally there is also the insight that the young are not as gullible as the older generation, and they will be expressing how they feel next Tuesday …