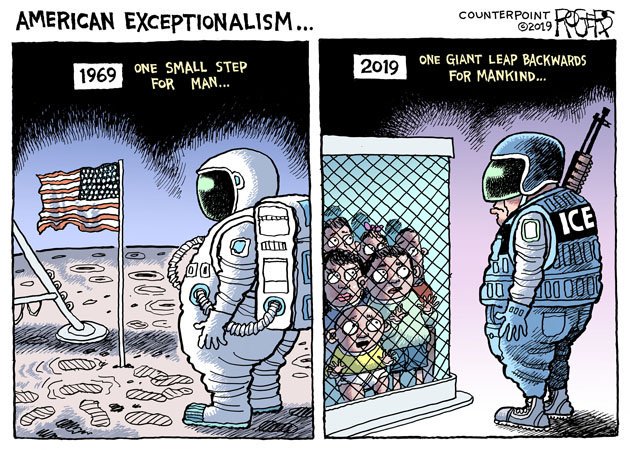 The cartoon above by Rob Rogers truly does sum up the weird age we live in. 50 years ago a truly amazing technological accomplishment that inspired all of humanity happened.
Brief story from then. Most the of guys in mission control at the time of Apollo 11 were 28, and also a lot younger when they were hired for the job. In the early 60's, when faced with what appeared to be an impossible task that was doomed to fail, most of the older more senior staff at NASA opted out. To fill the gap NASA hired bright young individuals who believed it could be done. History proved them right.
Today we might look upon all that is happening and despair and consider it impossible to resolve, yet despite it all there is a better time soon to come. Much of the current madness will pass away. It is inevitable that it will, because what currently manifests is a shrinking minority of intolerance and utter lunacy. Regardless of belief or non-belief, the majority do not support Trump, and they never have (remember that he lost the popular vote).
We can look upon stuff such as the items I've highlighted below and be inspired to reject it all and do better, because most of us really are better than all of this.
What Weird items popped up during the last 7 days?
The Cult of Trump … "Racists Unite" …
Abortion is a hot topic that inspires utterly absurd claims …
Jim Garlow likens shutting down Planned Parenthood to bombing the railroad tracks carrying Jews to death camps during the Holocaust.
Equality Continues to terrify some …
Franklin Graham warns that if the Equality Act becomes law, … "Christians will be persecuted for their sincerely held beliefs as never before. The clear teachings of the Bible on the sins of homosexuality and abortion will no doubt be considered 'hate speech.' It will be a nightmare from which this nation may never recover."
Gun Ownership …
Right-wing MAGA broadcaster James R. proclaims that there are no limits on the Second Amendment and he should be able to own a F-15 fighter jet, if he wants.
If it is not us then it is demonic …
Josh Bernstein asserts that …. "the radical left are demonic, they are satanic, they believe in things that are absolutely sickening and vile, and more than anything else, these people either worship Satan or they're just so anti-God, anti-Christian, anti-religion, anti-moral values, anti-traditional values, anti-everything and they're just absolutely warped in their thinking."
Mark Taylor warns that demonic spiritual entities are entering America via the Southern border.

(This guy is quite literally demonising foreigners)
The US, God's special land …
Homophobia on Steroids …
Conspiracies …
Epstein …
Unfortunately for Mr Dershowitz, the evidence is very much not in his favour …
"Dershowitz was among a lineup of lawyers who assisted accused pedophile Jeffrey Epstein in receiving a sweetheart plea deal after he had been accused of assembling "a large, cult-like network of underage girls." Earlier this month, Epstein was arrested for allegedly sex trafficking underage girls, some as young as 14, and molesting them, which has led many to question what the people in Epstein's orbit knew about his alleged activities and whether they participated. In an unearthed 2015 video, Dershowitz admitted to receiving a massage at Epstein's home, but Dershowitz said he was massaged by an adult woman and that he kept his underwear on. Two of Epstein's alleged victims said they were forced to have sex with Dershowitz, which Dershowitz denies."
Did anything else that was weird happen?
It is a ceaseless constant stream of complete and utter lunacy …
… and to finish this week, here is a good news item …