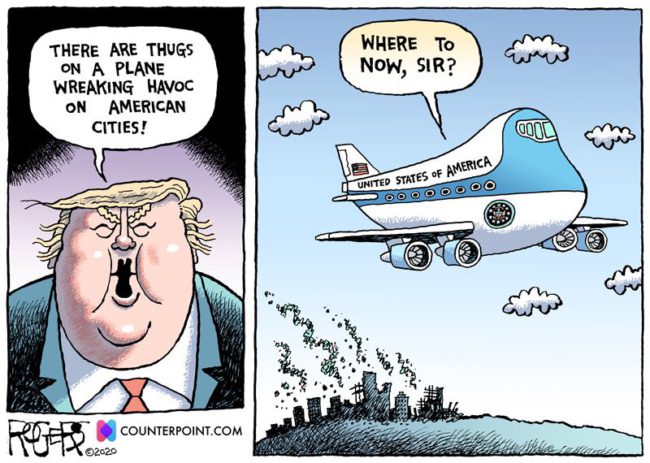 When faced with wingnut claims you might wonder how many can be so easily fooled.
It is actually not so strange. You might assume people think rationally and are aware of the real issues. If A is false, then logically this guy is lying, and if B is not true that it becomes clear that he aims to manipulate. Alas, many don't think like that. Emotional buttons are pressed, egos are pandered to, those on the in feel special and chosen, part of the in group. Those outside are deemed to be wicked and evil. Mr T is simply misunderstood, taken out of context, is not perfect but is the choice of a God so that makes it OK from their viewpoint.
Such white-hat/black-hat thinking is not how things really are, but these simplistic almost cartoonish worldviews are embraced anyway because they play to a narrative that enables some to justify some utterly obnoxious stuff as heroic and justified.
What can I say but to perhaps welcome you to a fantasy world where Fox News is "Truth", MAGA is a club for brave warrior knights, and a God has especially choosen a messiah to sit in the oval office to scupper a satanic pedophelia cult.
What new absurdities have been promoted by the merry band of lunatics this past week?
Let's take a look so that we can laugh at it all.
Wingnut proclamations from the last 7 days
Here are some of the highlights this week…
The Cult Of Trump
The Biden/Kamala fan club
COVID-19
Dennis Prager says that the global reaction to the COVID-19 pandemic has been the greatest mistake in human history.

The US response has indeed been utterly incompetent. This is a contrast to the many other nations that have done far better.

Michele Bachmann says that … "China unleashed this virus because they wanted to kill Americans … to induce fear in all of us so that we'll hate Donald Trump so much that we'll all go vote for [Joe] Biden and Kamala Harris."

It is hitting every nation on the planet, there is nothing US specific about it.

Dave Daubenmire Likens Businesses Refusing Him Entry for Not Wearing a Mask to Racial Discrimination

He is quite literally proud to be an idiot and loves presenting his crass stupidity as a virtue.
BLM
Star Parker is not a fan of Black Lives Matter: … "This is worse than activities we saw from the KKK and the mafia in these tactics; these are the same type of tactics of intimidation."
Lance Wallnau warns that Black Lives Matter is engaged in spirit-summoning, witchcraft, and the … "summoning of demons through a ritual of incantation."
Conspiracy Claim News …
Homophobia
Scott Lively complains that he is a victim of "cancel culture" after Amazon banned his book, "The Pink Swastika: Homosexuality in the Nazi Party."
Truly Bizarre
Stuff that is so utterly bizarre it is self-parody …
Good News Items
MAGA "life coach" and proudly amoral right-wing broadcaster Brenden Dilley has been repeatedly suspended from Twitter over the years for spreading misinformation and violating the social media platform's terms of service.

He has made the world a truly better place by getting himself suspended from twitter.
What else came out of the Wingnut fantasy land last week?
Lots of other stuff.
As always, it is an endless stream. Some of it is good, some sad, some is rather grim, and some is quite frankly hilarious. Here are a few more samples …
COVID-19 …
More bizarre claims …
The Catholic Church …
Falwell corruption update…
Sometimes surprisingly good things do happen …
Bonus Item – Some Humour from Alex Friedman
Let's finish with a bit of humour from Comedy writer Alex Friedman ..
Bonus Item 2 – Something to brighten your day a bit more