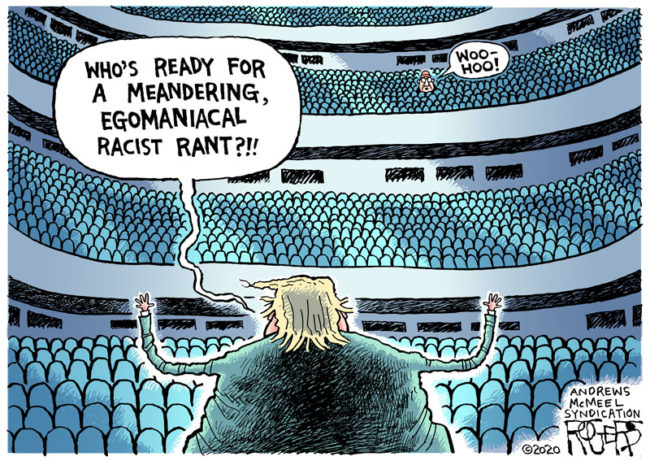 The big wingnut highlight one week ago was that prior to the Tulsa rally, Trump seriously believed that over 1 million people had registered to attend. He openly boasted about this on twitter ….
We all now know what happened. In reality only about 6,000 turned up, and so the 19,000 seat arena was mostly empty.
Let's take a look at what else has been happening this past week amongst the wingnut community..
Wingnut proclamations from the last 7 days
No change here. It is still all very much everything you might expect and a lot more. Here are some of the highlights …
The Cult Of Trump
Conspiracy Claims
BLM
Way beyond just Bizarre
What else came out of the Wingnut fantasy land last week?
Lots of other stuff.
As always, it is an endless stream. Some of it is good, some sad, some is rather grim, and some is quite frankly hilarious. Here are a few more samples …
Wingnut of the week – Florida Christians
Last Tuesday, commissioners in Palm Beach County, Florida unanimously passed an ordinance required face masks in public spaces.
As a response, some people turned up to criticise the decision. What they proceeded to claim is completely and utterly bonkers.
Apparently wearing a mask will clog up "God's wonderful breathing system" says one lady. She appears to think that masks will block oxygen from entering our bodies.
The next lady is even more unhinged. She claims that masks are killing people and that the commissioners will be arrested for obeying the devils laws.
The mask will indeed help protect against COVID-19, but it offers no protection against the other rampant pandemic – human stupidity.
As for COVID-19, it is rapidly seeing a huge spike in Florida. So much so, that anybody travelling from Florida to New York now faces being quarantined.
Bonus Items
Here are more clips produced by Writer/Comedian Sarah Cooper this past week …
OK, one more clip.
Just to be clear, this guy is not being serious, it is parody … and yet many Trump supporters thought it was real …