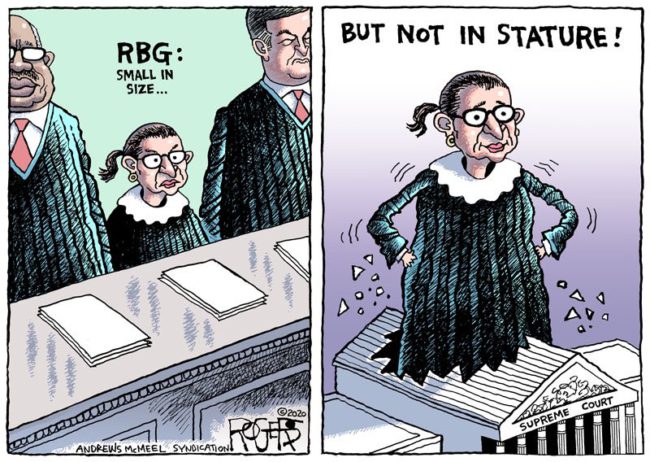 The big news of the week was the passing of RBG and the subsequent wingnut mad rush to fill her seat with an originalist. The issue is not Amy Coney Barrett's religious belief, but rather is her judicial philosophy. If you are struggling with that, then permit me to briefly explain the flaw – If one is to look at the interpretation (or, meaning), which inheres at a particular time period, the question becomes: why is that reading the essential one? 
To translate; do you really want the thinking that prevailed over two hundred years ago to be the finial and decisive word that is beyond any debate or consideration for gay rights, human rights, and women's rights?
The dead hand of prior generations should not control important contemporary issues.
This is perhaps what the evangelical support for Trump has really been all about. They know he is utterly incompetent and odious, but because he will pander to their beliefs by injecting people into the judiciary that they believe will undo gay rights and women's rights, then they will happily hold their nose and vote for the idiot-in-chief. They then justify it by telling themselves that he is the appointed one, a messiah like chosen one, and despite all evidence to the contrary, assert to themselves that he is now a believer just like they are. They have managed to successfully fool themselves, but nobody else.
Let's take a look at some of the things they have been claiming. As you might perhaps anticipate the passing of RBG and the empty SCOTUS has garnered a lot of focus.
Wingnut proclamations from the last 7 days
Here are some of the highlights …
The Cult Of Trump
RBG
From the folks who seriously think that every sperm is scared …
The empty SCOTUS seat
Truly Bizarre
This is the self-parody section ….
What else came out of the Wingnut fantasy land last week?
Lots of other stuff.
As always, it is an endless stream. Some of it is good, some sad, some is rather grim, and some is quite frankly hilarious. Here are a few more samples …
COVID-19 …
The Catholic Church …
If you feel that I'm on a bit of an anti-catholic rant here, then I recommend that you get your revenge on me by ensuring that you vote for the Catholic candidate, Joe Biden.
Weird…
Bonus Item – The Climate
Here are some insights via Sarah Cooper …
And as a brief reminder …