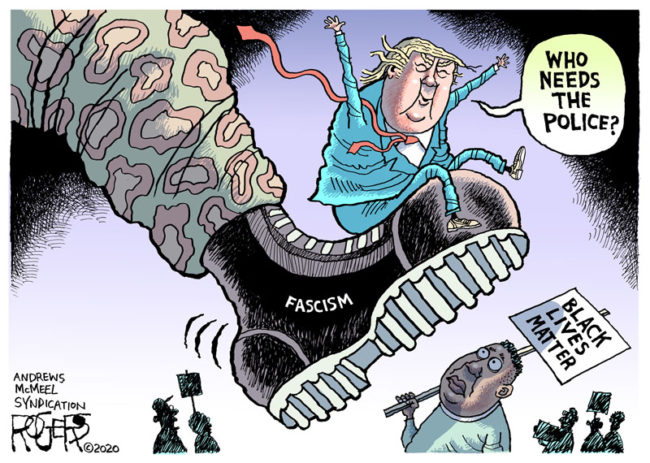 Actions have consequences, or to be a tad more precise, support by the wingnut legions for the inept and incompetent is having consequences that continue to unfold. Dan Rather expresses it all far better than I ever could …
What new absurdity has been promoted this past week?
Let's take a look.
Wingnut proclamations from the last 7 days
It is all very much everything you might expect and a lot more. Here are some of the highlights …
The Cult Of Trump
Shane Idleman insists that Christians are not being used by President Donald Trump because God is using Trump to save the United States: … "We are supporting a movement back to God. God will use unlikely candidates to accomplish His purposes."

The best argument, the one that is motivating many to abandon evangelicalism, is evangelical worship of the idiot-in-chief

John Wesley Reid offers Christians five reasons why they … "should feel comfortable voting for Trump in 2020."

His list isn't going to change anyone's mind about Trump, but it will provide even more evidence for why no decent person should be aligning with his faith. If religion is supposed to at least offer ethical guidance, it's clear it hasn't worked on white evangelicals who have failed moral question after moral question over the past four years.

Janet Porter Says The Election Between Trump and Biden Is a Choice Between 'Life or Death' …"If Joe Biden is elected, he will dismember children with your tax dollars up until birth"

It turns out that 2016 was literally a choice between Life and Death. So far the body count of preventable deaths is 145,000 and rising.
Paranoia is apparently a jolly good idea
Scott Lively and Richard May think that America needs more people who are willing to "embrace the spirit" of Joseph McCarthy and take a stand against left-wing activists and protesters.

A hush descends. The chairman points his finger at the accused and says, "Are you, or have you ever been a member of the Democratic party?" a shudder of horror ripples through the room at the mention of the D word. Embracing the very idea that people should vote means the accused is not a true American and does not worship the one true Trump Messiah.
BLM
Demons & Satan
Scott Lively explains … "why Portland is the center of the demonic realm's attacks."

Demons don't actually exist.
The John Lewis fan club
Jesse Lee Peterson Smears John Lewis, Calling Him 'An Evil Man' … Just as he did when Rep. Elijah Cummings died in 2019, right-wing radio host and pastor Jesse Lee Peterson kicked off his radio program this morning by attacking Rep. John Lewis, who passed away Friday, as "a phony," "a race hustler," and "an evil man."

When you attack a hero and a decent human being, labelling them as "evil", it tells us nothing about the hero, but reveals a great deal about you.

Chris McDonald Smears John Lewis As a 'Rabid Racist' Who 'Never Fought for Anything' … When Rep. Elijah Cummings died in 2019, McDonald claimed that God took Cummings' life because he opposed President Donald Trump. Perhaps aware of the criticism he received for those remarks, McDonald insisted that he was not claiming that "God killed John Lewis" while simultaneously asserting that "God is rising up, and his enemies are being scattered."
Truly Bizarre
What else came out of the Wingnut fantasy land last week?
Lots of other stuff.
As always, it is an endless stream. Some of it is good, some sad, some is rather grim, and some is quite frankly hilarious. Here are a few more samples …
Will next week be different and result is no bizarre claims from the wingnuts?
Nope.
Bonus Item 1 – Aliens Need Jesus
The most bizarre tweet of the week just has to be this one from Texas State Rep. Jonathan Stickland …
Bonus Item 2 – More details on his Cognitive test
Sara Cooper – How to person woman man camera tv