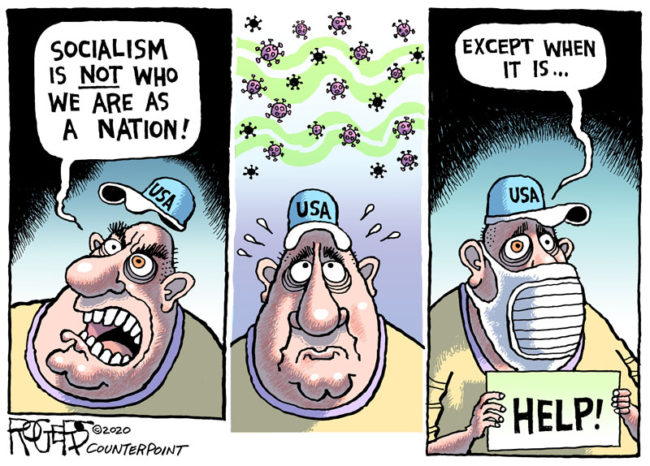 We are in the midst of a pandemic. Within the context of the right-wing wingnut brigade, it is a pandemic of misinformation and alternative facts.
Listen to the babbling from these voices and what becomes clear is that many of these people simply do not grasp either the seriousness of what is actually happening or how rapidly things are now changing.
Let's take a look to see what has popped up this past week.
Wingnut proclamations from the last 7 days
Here for your enjoyment is this week's selection of actual wingnut gems. It has all been mined from a stream of befuddled right-wing extremism blended with religious literalism
Wingnut Coronavirus Claims – Denialism
Rodney Howard-Browne: Coronavirus Pandemic Is a Globalist Plot to Kill People With Vaccines … "right-wing pastor and radicalconspiracy theorist Rodney Howard-Browne held services at his The River church in Tampa Bay, Florida, last Sunday, where he encouraged congregants to greet one another by shaking hands because, as he said, "we're raising up revivalists, not pansies."

I'm looking forward to seeing him attempt to lay hands on Trump to pray for him

Former Milwaukee County Sheriff David A. Clarke … "GO INTO THE STREETS FOLKS. Visit bars, restaurants, shopping malls, CHURCHES and demand that your schools re-open. NOW! If government doesn't stop this foolishness…STAY IN THE STREETS. END GOVERNEMNT CONTROL OVER OUR LIVES. IF NOT NOW, WHEN? THIS IS AN EXPLOITATION OF A CRISIS,"

Anybody listening to this guy is putting themselves at great risk

Trump-Boosting Megachurch Pastor Mocks Those Who Skipped Church For Fear of Coronavirus … "Do you believe God would bring his people to his house to be contagious with the virus?" Maldonado asked. "Of course not."
Wingnut Coronavirus Claims – Folks who just don't get it
The Daily Wire co-founder and COO Jeremey Boreing is angry that businesses are shutting down because of the outbreak: … "Shutting down private businesses is overreach. Shutting down restaurants in a city of four million people is criminal. There are hundreds of thousands of people who don't have food at home, don't know how to cook… grocery stores aren't built to feed 100% of us 100% of the time."
Wingnut Coronavirus Claims – Bizarre
Wingnut Coronavirus Claims – Conspiracy Claims
Wingnut Coronavirus Claims – The Wrath Of God
As I pointed out last week, it might be tempting to think that the news of the Coronavirus has turned all these folks crazy. Alas no, they were always this crazy.
Utterly Bizarre …
The normal crazy stuff also popped up as usual …
Scott Lively declares that … "scorn for conspiracy theories in mainstream society is itself evidence of a conspiracy to inculcate self-censoring behavior in the citizenry to suppress inquiry into the agenda of the Marxist ideologies in control of our media, academia and other institutions."
Andrew Wommack says that … "when you are teaching the principles that are in the Constitution, you are teaching from scripture. It was based on the word of God."
What else came out of the Wingnut fantasy land?
Lots of other stuff.
As always, it is an endless stream. Some of it is sad, some is rather grim, and some is quite frankly hilarious. Here are a few more samples …
Wingnut of the week
Creationist Kent Hovind: Yes, a Boy Drowned at My Park, But His Siblings "Had a Blast Here" …
We had, this last Sunday, rumors going around the internet about an accidental drowning here at Dinosaur Adventure Land, and it's true. There was a family with five kids, twin seven-year-olds, all playing in the lake together. The water was three feet deep. Suddenly the dad noticed that Steven, the 7-year-old, was gone. And he apparently slipped on the dock and hit his head. Nobody saw. We don't know. But he did drown in our lake. And we tried — [to someone off-screen] your wife is a medical doctor, and she's right there on the scene with him. As soon as she got him out of the water — we don't know how long he was underwater — she gave him CPR, probably did everything right, took him to the hospital…
Yeah, I mean… it's just… too late. We don't know what happened.
Anyway, the kids had a blast here, and the dad wants to bring all the kids back and loves the place…
His complete lack of any basic human empathy is truly jaw dropping. A brainless guy is heartless, too.