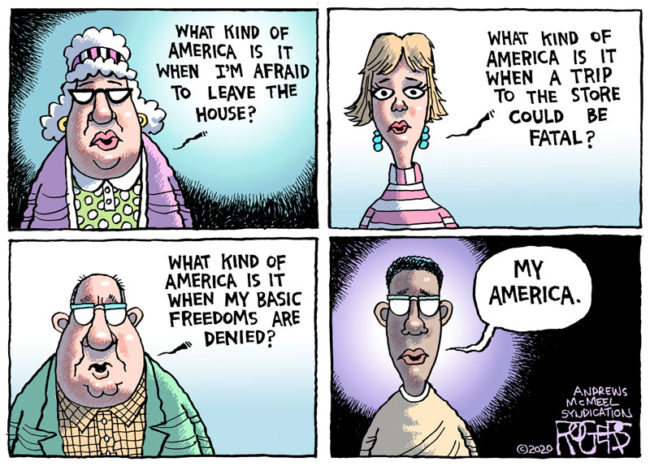 Our new weekly theme continues. The battle against COVID-19 is also a battle against wingnut disinformation.
The consistent and persistent drip feed claim is that the major news networks are "Fake News". This has perhaps in many ways contributed to some Republican run states ignoring the warnings and lifting lockdown. The consequences are already well-known – The "Fake News" spells it out. On May 15th The NYT explains that "Models Project Sharp Rise in Deaths as States Reopen". When you dismiss facts and ignore subject matter experts then there are consequences. In this case is is a very tragic and rapidly rising body count.
Let's take a look at what has been happening this past week amongst the wingnut community..
Wingnut proclamations from the last 7 days
It is all very much everything you might expect and a lot more. Here are some of the highlights …
Wingnut Coronavirus Claims – Utterly clueless and proud of that
Wingnut Coronavirus Claims – The Gods are angry
Wingnut Coronavirus Claims – Conspiracy Claims
Way beyond just Bizarre
The Michael Flynn Fan Club
For background context, the evidence against Flynn is robustly documented and verified.
The Obama Fan Club
The Cult of Trump
What else came out of the Wingnut fantasy land?
Lots of other stuff.
As always, it is an endless stream. Some of it is good, some sad, some is rather grim, and some is quite frankly hilarious. Here are a few more samples …
There are also good people out there …
Wingnuts of the week – White Evangelicals
Researchers Paul A. Djupe (of Denison University) and Ryan P. Burge (of Eastern Illinois University), have some numbers. They published them this week. The question in the spotlight was – "Is Trump Anointed by God?"
They ran their survey in May 2019 and then again in late March 2020 and here is what they found (left panel show the numbers from last May and right-hand panel show the rapid increase since then)…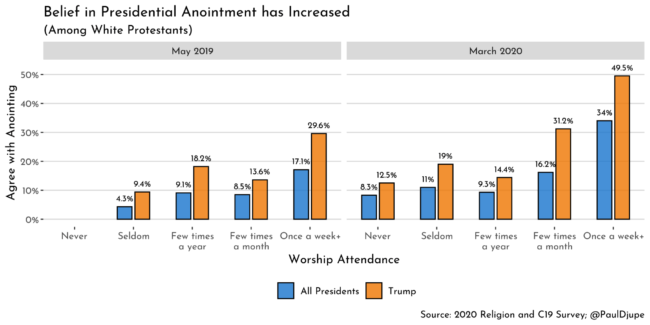 This appears to be a new belief that is sweeping American religion. To more frequently you attend a church, the more inclined you are to buy into this idea.
They quite literally think that this is what is going on …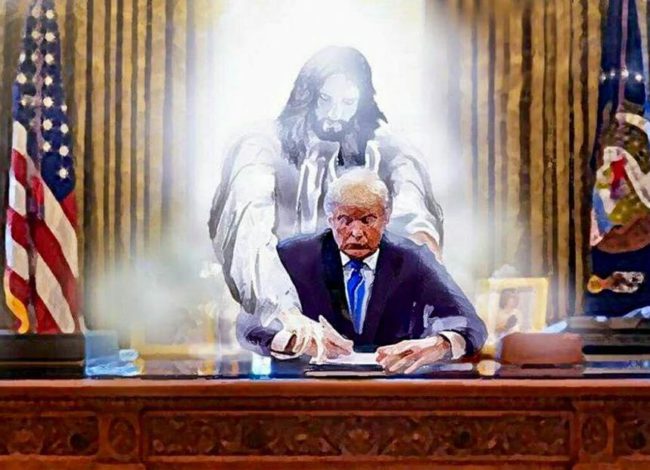 The researchers make this observation …
We are not the first to note that right wing media are having a profound effect on public opinion, serving to insulate Trump supporters. But we are some of the first to document how this is built and sustained from the bottom up. That is, political churches, among Republicans especially, reinforce the argumentation that is also coming from above. The evidence provided here suggests a degree of vertical integration that is amplifying the threat felt from outgroups and the religious significance of the ingroup political leader, Trump.
Reading the details they have is fascinating. They are measuring the emergence of a political/religious personality cult.
Trusting Trump for Medical Advice
One of the authors, Ryan P. Burge, also wrote an article this week in Christianity Today titled …"Where Do White Evangelicals Get Their Coronavirus News? The White House".
The Trump administration was named by white evangelicals as the source they would most likely rely on as a major source of news. In the chart below, the left-hand are white evangelicals, and the right-hand is basically everybody else …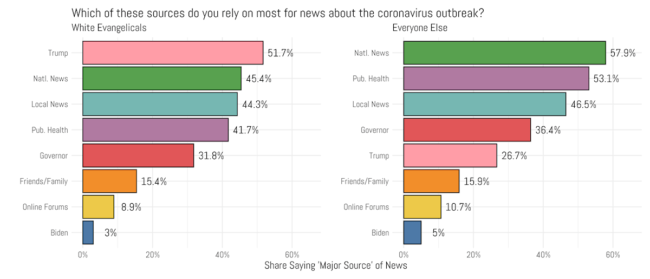 There is simply no polite way to put this – many of the white evangelicals in the US are extraordinarily stupid and gullible. This is not my opinion, it is an evidence-based fact.