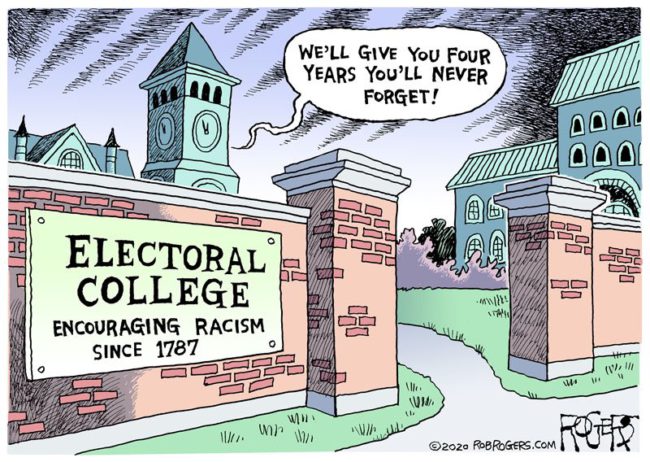 Biden won the popular vote by millions, and has won the election. We now all know this. It is however not the popular vote that wins and gets him the top job. Instead we have the utterly crazy, and truly unrepresentative electoral college system that determines the outcome.
It really has had its day and needs to go. (If you don't truly understand it, then Wikipedia can explain it to you)
So apart from the crazy system itself, what other idiocy has been popping up during this past week?
The highlight of stupidity has perhaps been the claim that the election is being stolen because all the postal ballots skew towards Joe Biden. In the context of Trump spending months banging on about postal ballots being bad and telling all his supporters to vote in person and not worry about COVID-19, why exactly is this skew a surprise or "evidence" of anything nefarious?
Or is that really the highlight, because something even more bigly popped up yesterday.
We do now have the observation that the Trump presidency ended, not at the White House or at some New York hotel, but in the scruffy back car lot of a landscaping business, next to an adult video store and opposite a crematorium. (Yes really). More on this a bit further on.
So what else has popped up?
Lots.
Let's take a look at some of the truly jaw dropping highlights that illustrates that the most common commodity that is available in abundance is stupidity.
Proclamations from the last 7 days
The Cult Of Trump
Demons and Devils
It is actually entertaining to watch and laugh at her babbling nonsense (literally, she is supposedly praying in tongues), so here you go, and yes, I have no idea who that guy is that is walking to and fro behind her looking very lost…
Folks who are not Biden fans
Vote counting
The Real Exposure of Frauds
COVID-19
Conspiracy claims
Truly Bizarre
What other Idiots popped up last week?
As always, it is an endless stream. Some of it is good, some sad, some is rather grim, and some is quite frankly hilarious. Here are a few more samples …
MAGA Cultists …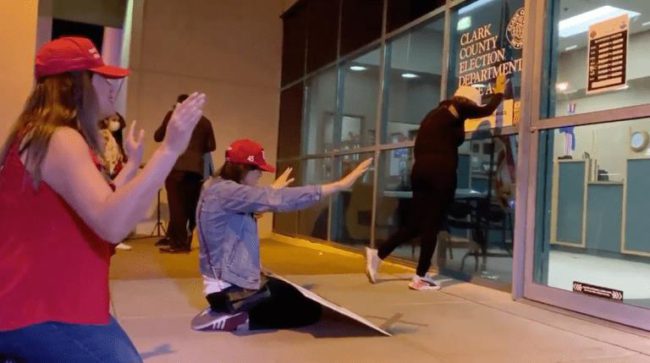 Meanwhile COVID-19 continues to ignore what people believe and just keeps rolling forward …
And the winner of Idiot of the week is?
It should perhaps have been the guy who spent months telling his supporters that postal ballots are fraudulent and that they need to vote in person, then cites the lack of postal ballots voting for him as "evidence" of fraud.
However this then happened.
Yesterday the Trump team organised a Press Conference in the Four Seasons in Philadelphia. They screwed up and actually booked the Four Season Landscaping Company … a tiny shop in the outskirts of Philadelphia and had to follow through because invites had gone out.
Why?
Incompetence, or as is more credible, Trump tweeted about the press conference at the Four Seasons before they booked it, and when they tried to book it, the hotel said "Nope". So rather than roll back the tweet, they scrambled around and found something named the Four Seasons – an obscure Garden shop.
Yes, they really are that stupid and totally screwed up … like everything else they get their hands on. As I mentioned above, this is a truly fitting place for the Trump Presidency to end, nestled between a porn store and a crematorium.
I'm a bit worried about going down to the local Garden centre now because the Trump administration might decide to hold a press conference in the car park.
Bonus Item – Election Insights
What has in been like when Trump's fools turn up to "monitor" ballot counting?
Like this … (read the thread) …
A Few More Bonus Tweets
And the phrase "Big Boy Pants" goes mainstream …
OK, just one more important tip …
However, the Big finish – Biden / Harris Win