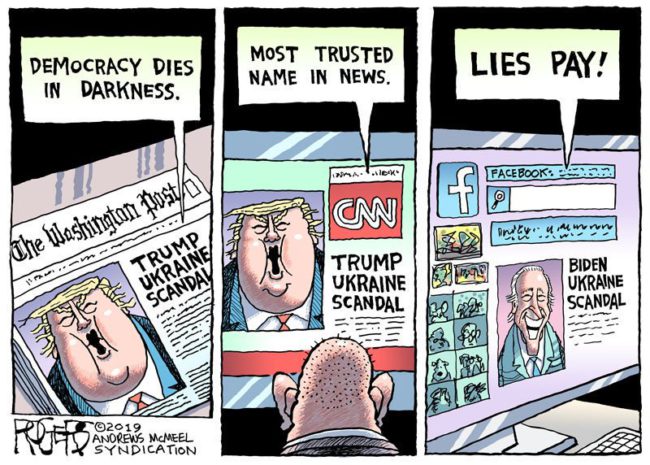 It is almost universally true that truth matters. Think of anything familiar and consider the consequences of what would happen if the wingnut policy of "alternative truth" prevailed …
Medicine: If you were diagnosed by a guy who simply made up an illness to explain your symptoms because it felt right then how would you feel about that?
Civil Engineering: The guy who designed a bridge did no calculations, he simply made the numbers up. You are invited to be the first to drive across. Are you willing to do so?
Law: You have been accused of a crime. The witnesses are simply making stuff up. You are OK with this .. right?
Shift to modern right-wing politics, and suddenly truth no longer matters. Instead the end justifies the means. Many currently find this acceptable and knowingly promote fake claims.
I don't find this acceptable, and regardless of your political leanings, neither should you.
Wingnut proclamations from the last 7 days
Here is this week's selection of gems that has been mined from the befuddled stream of proclamations …
The Cult of Trump …
Bill Mitchell says that the "most brilliant thing Trump has ever done is convincing the #Media he is an idiot."

(That actually required no effort on his part at all).

Joe Hoft of The Gateway Pundit claims in a typo-riddled article that at recent rallies Donald Trump has offered "various hints that the Deep State may soon soon face justice." The hints include Hoft's perception that Trump was "very calm" at those rallies.
Todd Starnes argues that Christians must vote for President Donald Trump in 2020 because …"a leftist mob made up of socialist politicians, academic elites, raging feminists and basement-dwelling pajama boys has partnered with antifa, illegal aliens and other radical groups to finish what President Obama started—a fundamental transformation of our nation."
The Impeachment fan club …
For these folks actual evidence is "fake news", and what resides behind it all is a nefarious conspiracy. Basically paranoia on steroids …
The folks who see Demons everywhere …
If you truly believe that your imaginary friend is real, then it is not a huge leap to embrace the idea that an imaginary enemy with imaginary supernatural powers is also real …
History Rewritten …
Abortion "Solutions" …
(He was actually attempting to argue against common sense gun control … and failed to do so in a rather dramatic manner)
Homophobia …
What else came out of the Wingnut fantasy land?
Lots of other stuff.
As always, it is an endless stream. Some of it is sad, some is rather grim, and some is quite frankly hilarious. Here are a few more samples …
The "Ready-to-be-Offended" gang focused on something new this week …
Imagine seeing the above cereal box and being so obnoxiously intolerant that you think this is Persecution. What it actually reveals is that the supposed "Moral Majority" are really "Immoral shits".
It is not all doom and gloom
There is also some good stuff out there. Sometimes people do honestly realise that they made a mistake and seek to fix it …
Twitter users tweeted back when faced with BS from Rubio…
Hillary mocked Trump with a very public bible quote …
… and justice is delivered …