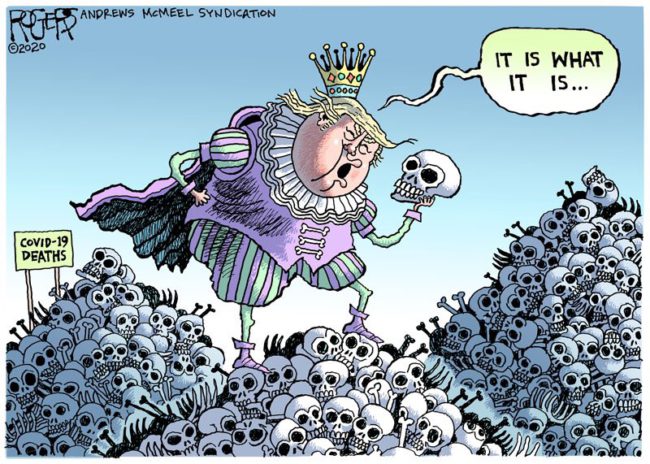 If you tune into wingnut proclamations then you will encounter a considerable degree of double-think. They have been quite literally promoting two conflicting ideas as "truth" this past week.
Biden is supposedly ineffectual, has dementia, and is senile, hence it would be bad if you voted for him. That is what the official Trump campaign ads are claiming. At more or less the same moment in time we have Trump himself this past week claiming that Biden is so effective and sharp, that he is sufficiently powerful enough to be an existential risk to both God and the Church.
So which is it, is Biden weak and senile or is he a superhuman with supernatural abilities that enable him to attack and threaten the maker of the entire universe?
The deep irony is that both of these absurdly silly and conflicting claims are lies, but hey, that's Trump. You can more or less guarantee that if Trump says something, it is best to assume by default that it is not true.
What new absurdities have been promoted this past week?
Let's take a look.
Wingnut proclamations from the last 7 days
Here are some of the highlights this week…
The Cult Of Trump
SATAN
Conspiracies
Homophobia
Truly Bizarre
Stuff that is so utterly bizarre it becomes comedy …
What else came out of the Wingnut fantasy land last week?
Lots of other stuff.
As always, it is an endless stream. Some of it is good, some sad, some is rather grim, and some is quite frankly hilarious. Here are a few more samples …
Roy Moore is back in the news cycle …
Greg Locke just relishes being the centre of attention …
The usual weird claims …
Sexual abuse by clerics is rather too common and so we have this from the past week …
The usual COVID-19 denialism news popped up as usual …
I should perhaps also point out that most people, regardless of the belief or lack of one, are quite sensible. The above is just the lunatic fringe. There is data to verify this …
Twit of the Week – Jerry Falwell Jr
Liberty University has had a growing problem, namely Jerry Falwell Jr, the Trump loving guy who runs this infamous religious fundamentalist university. Tthis popped up in the past week
However, the big news is that Falwell posted the picture below during the past week, then quickly removed it. To be clear, that's not his wife …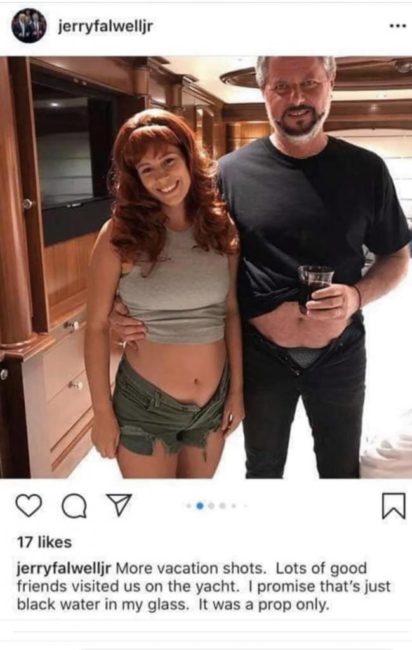 Normally what folks do in their own time is their own business, but as for this guy …
… when Falwell's entire "brand" is promoting conservative Christianity, and when students at Liberty are prohibited from consuming alcohol (and were once punished for being at parties where alcohol was present), and when he posts weirdly sexual (?) images with a woman who's not his wife, it seems at least worth noting his actions …
.. the point being his rather glaring double standards. His rules apply to his students, but apparently not to him.
What then happened because of it all is this ..
Jerry Falwell, Jr. is Taking an "Indefinite Leave of Absence" from Liberty U.
The "board" put him on Indefinite leave … except that Falwell is more or less the Board and gets the final say in all that happens.
Just a thought, but this feels very much like blatant media manipulation. They have a serious racist issue along with a lot of other highly dubious stuff. If you, as a potential student, google them, all that comes up. This however changes all that, because this is now what will come up instead, and it will mask the other stuff.
Prediction: Most folks are not on campus now anyway, so Falwell going off to read his bible or whatever is no big issue. In about a year he will pop up and be back officially running it all, supposedly reformed, and life goes on. Meanwhile the deeply problematic racist stuff gets buried by this media shit-storm in google searches.
Bonus Item – How to Bible
Sarah Cooper retweeted an old clip, but a golden one, this past week …
Finally – Let's not forget that this train crash interview also happened this past week