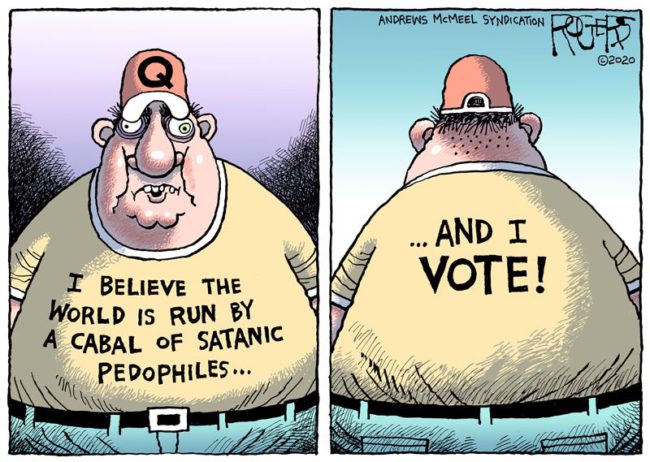 When faced with wingnut attributes , the one constant principle that they will always adhere to is "hypocrisy".
With the passing of RBG this is yet another glaringly obvious example. Four years ago they refused to hold a hearing on an up-or-down vote on Merrick Garland. By doing so they invented the principle that the Senate shouldn't fill an open seat on the Supreme Court before a new president was sworn in.
What happens now, at a time when early votes are being cast?
I don't need to tell you, you already know. It is not simply your standard "hypocrisy", but instead is glaring "hypocrisy" on steroids.
To quote Obama's statement on the matter …
A basic principle of the law — and of everyday fairness — is that we apply rules with consistency, and not based on what's convenient or advantageous in the moment
Let's take a look at some of the other stuff that has popped up during the past week so that we can laugh at the absurd and truly daft claims.
Wingnut proclamations from the last 7 days
Here are some of the highlights …
The Cult Of Trump
Civil War
COVID-19
Wildfire Conspiracy Claim News …
From the folks who truly don't believe in the reality of climate change, even when it comes calling …
Truly Bizarre
The unhinged fringe are becoming even more unhinged and frantic because they can no doubt smell defeat and relegation to the back benches of obscurity and irrelevance…
What else came out of the Wingnut fantasy land last week?
Lots of other stuff.
As always, it is an endless stream. Some of it is good, some sad, some is rather grim, and some is quite frankly hilarious. Here are a few more samples …
Trump …
The Catholic Church …
COVID-19…
Bonus Item – Alex Friedman
Here are some insights from comedy writer Alex Friedman during the past week …